Ooni Koda 16 Gas Powered Pizza Oven
Runs on your choice of propane or natural gas for ultimate ease and control. Heats to 950°F (500°C)
Cooks fresh, stone-baked pizza in as little as 60 seconds
Extra-large cooking area for 16″ pizzas, meat joints, breads and more
Right now, we're selling our pizza ovens all over the world. Hot and fast is how you cook truly great pizza - all of our models get hot as hell (that's 950°F/500°C last time we checked) and cook incredible pizza in only 60 seconds. Before Ooni, if you wanted pizza that good you had to go to a restaurant or spend thousands on a traditional pizza oven. Not anymore, friends.
Because everyone deserves great pizza, that's why. It's a simple idea, but a noble cause that's behind everything we do at Ooni. We're working our wee socks off and won't rest until there's an Ooni pizza oven in the backyard of every man, woman and backyard-owning child everywhere.
What makes Ooni Koda 16 awesome?
Take charge of your outdoor cooking experience with Koda 16, our gas-powered outdoor pizza oven designed for stone baking epic 16-inch pizzas and delicious flame-cooked steaks, fish and vegetables. Decide between fueling with a propane tank or a natural gas line for a maintenance-free cooking experience.

Blending a showstopping design with the convenience of cooking with gas, Koda 16 boasts a wide opening, large cordierite stone baking board and innovative L-shaped burner. Like all Ooni pizza ovens, Koda 16 reaches up to 950°F (500°C) – the blazing heat needed for cooking stone-baked, perfect pizza.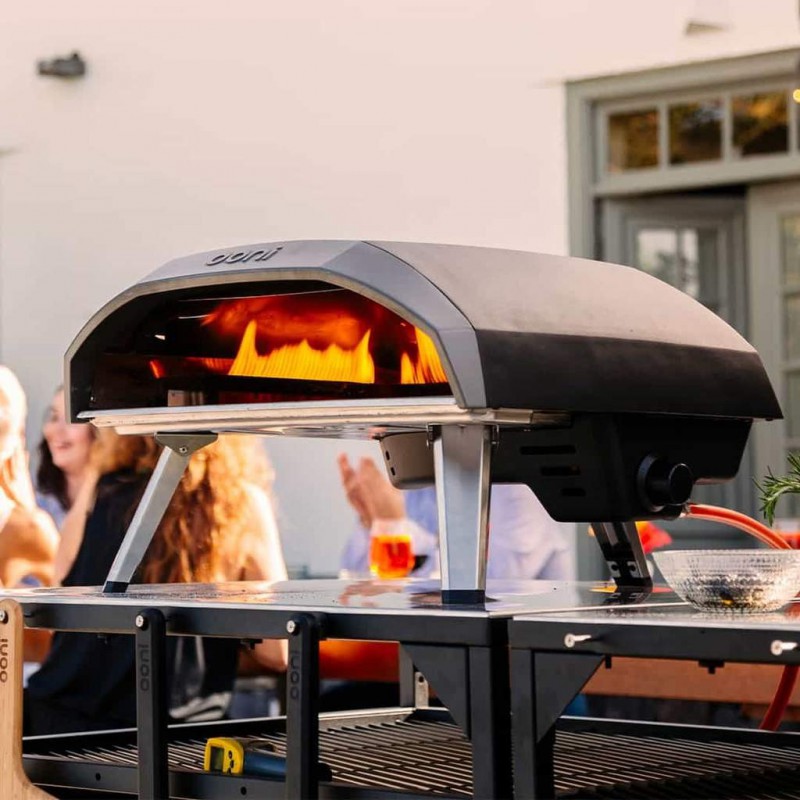 Technical Features
Weight: 39.2 lbs (17.8kg)

Dimensions: 25 x 23.2 x 14.7″ (63 x 58 x 37cm)

8.49kWh / 29000 BTU

Cooking surface: 406.4mm (16″)

15mm (0.6″) cordierite stone baking board

L-shaped gas burner with waterfall effect flame

Built-in gas ignition for fast, easy cooking

Gas terminal for attaching the hose and gas source

Folding legs for easy transport and storage

Durable, insulated, powder-coated carbon steel shell

The propane version of the Koda 16 is compatible with propane tanks normally used with barbecues (up to 30lbs (13kg) - we recommend at least 6kg) and the natural gas version of the Koda 16 is compatible with natural gas lines